Feel Safe & Be Safe
---
Prices and Services
As each tour is different and customized for you, it is impossible to give a set price. The price depends on mileage, length of booking, if I need to stay away from home etc. I can tell you that the prices that I quote are the best value in the business. The price I quote is the price you pay - there are no hidden extras!
Tours can be arranged for 1 to 31 days. Please note that European Tours are more expensive due to extra costs of fuel, ferries, insurance and accommodation so please ask for a quote.
Tours are for 1 to 5 passengers. The price I will quote you is not per person, but covers 1 to 5 people. The best there is!
Price Includes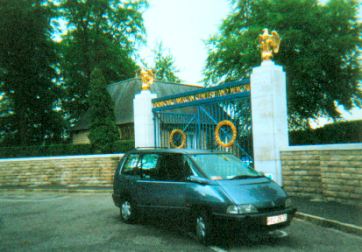 My Espace,
Outside US War Cemetery Luxembourg City,
where General Patton is buried with his men.
Myself as your chauffeur & general guide.
Hire of my Espace Champs Elysee vehicle.
Collection to / from airport.
All mileage.
All fuel costs / oil / running costs.
Hire & Reward Insurance.
The itinerary.
Phone calls / letters / faxes to arrange the tour.
Help, advice and a cheerful, friendly atmosphere.
Price Does Not Include
Air fares, Accommodation, Meals, Drinks or Entrance fees. Please make sure that you have full vacation insurance.
---